It's Top 10 Tuesday (hosted at The Broke the Bookish) the topic is:
Top Ten Book Boyfriends/Girlfriends (Which characters do you have crushes on?)
Oh yes, oh yes, we do have lots and lots of crushes on fictional characters.  Because, they are better than real people some times!
---
Top Ten Book Boyfriends/Girlfriends
Jess
Will Herondale
My poor husband will always have to live with the fact that he shares my heart with Will.
Chaol Westfall
I was really disgruntled by what SJM did to Chaol in QoS and took it as a personal offense. I think it definitely bled into my feelings of EoS (which I HATED the first time I read it). Thankfully, she wrote ToD and redeemed by boy and I'll be eternally grateful!
Ian O'Shea & Wanda
Book Ian and Wanda more so than the movie, even though I thought the movie was done well (I just wasn't a big fan of the casting, because to me Ian was a lot different in my head – as it goes with bookworms!)  And yes, both of them equally, because they are both awesome. So, I'd date either one.
Hector
All I can say about Hector (Girl of Fire and Thorns) is HECTOOOOOOOOOR. How can you not love him?
Elide Lochlan
Seriously, Elide is one of my favorite characters in the ToG series and she was quickly that way. It didn't take long to fall in love with her during EoS. In fact, she's still the best part of that whole book.  So, Lorcan, *I'LL* date Elide if you're gonna go and mess things up that bad!
Isabelle Lightwood and Simon Lewis
I gotta admit, I was not so much on the Izzy bandwagon, but Cassie Clare helped me fall in love with her slowly. And Simon Lewis, hands down, will always be my favorite character in the modern series. I don't think anyone can take that away from him. I fell for Simon from book one and some of my favorite parts of the series come from Shadowhunter Academy. Seriously CC, MORE SIMON!
Tod (Soul Screamers)
I absolutely LOVE the Soul Screamers series and it's one I try to binge every year or two. And one of the reasons I love it so is Tod. He's the best!
Sam Cortland
*forever weeps*
No guy/man/fae will ever replace Sam Cortland. He was the best part of that world.
Aleya
Guys. My love of characters knows no bounds, but it was still difficult to pinpoint who exactly I wanted to talk about.
My first love, and my always love:
Dear Mr. Darcy… oh how my heart soars for him and his sullen ways.
My next one is one who I adore but I know I should not. He is not a good man and I will be very happy to see his character go in the books.
Petyr Baelish, aka Littlefinger. I can't help myself. I crush hardcore on him. I think it's his quick wits and his charisma. Man am I a sucker for charisma.
My next one is of course a Sarah J. Maas character. In Empire of Storms I fell in love with this brute. I can't wait to see what happens in the last book with him and Elide.
Oh Lorcan Salvaterre.. why do I crush on you so much? You're not a great guy the majority of the time.
This next one is a two in one. I'm obsessed with this show right now and I'm almost finished with book two. It totally counts.
I crushed hardcore on Demelza in the show, not quite as much in the books. Definite girl crush there. You can't help but crush on Ross Poldark, in both book and show. These two have been my loves the past month or two, despite their issues.
My heart just does flips at this one.
Oh Levi, you sweet sensitive man. He stole my heart and never let it go.
I was trying hard not to put this guy at the top… not that they're in any order. But how can you not crush on Rhysand?
Sarah J. Maas truly knows how to write crush-worthy characters.
This one has been a crush since I read the Vampire Academy books back in high school. I latched onto his character and didn't want to let go.
Adrian Ivashkov has been a forever book boyfriend for me. I can't help but love this flawed individual.
Forgive me… I have another SJM love…
Dorian Havillard has been one of my crushes since book one. He reminds me a lot of Adrian now that I think about it…
This last one has been a long time love. I fell hardcore for his character.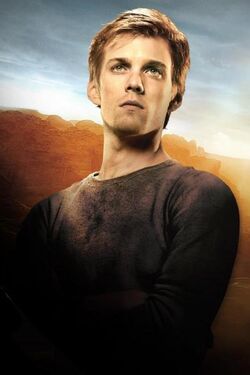 I wasn't fond of the movie casting or any of that. Ian O'Shea from The Host has been a love of mine since I read it back in high school. I loved how he was with Wanda and the depth of his feelings. Now I want to re-read that…
•
What characters do you have a crush on? Tell us in the comments below!